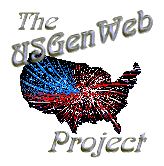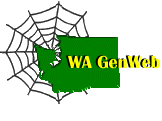 Welcome to
Clark County, Washington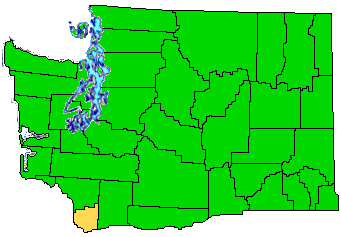 Map courtesy of Mike Sweeney
---
My name is Alice Allen, and I will be your host in Clark Co. Formed in 1844, and originally named Vancouver County (changed to Clark in 1849), Clark County is the oldest county in Washington state, and is home to one of the oldest settlements in Washington -- Vancouver. Named for Captain George Vancouver,a British explorer who actually never explored the mighty Columbia River or saw the site of his namesake city, Ft. Vancouver was established in 1825 by Dr. John McLoughlin of the Hudson's Bay Company. As settlers pushed north out of Oregon to the land across the Columbia River, the Hudson's Bay Company eventually gave up its Fort and trading business in the area, and Vancouver--the city--was born. We hope you will enjoy your visit with us. Be sure to check out the Query & Surname pages,the Clark Co. links as we establish them, the Volunteer Lookups page, and return often, as this site will grow as we go. We invite you to leave your queries, and if you have any family records and histories to contribute (non-copyrighted or with permission to copy, of course), please get in touch with me, Alice Allen. The more information we have, the more we will be able to help other researchers.
---
About the Washington GenWeb Project
In March and April, 1996, a group of genealogists organized the Kentucky Comprehensive Genealogy Database. The idea was to provide a single entry point for all counties in Kentucky, where collected databases would be stored. In addition, the databases would be indexed and cross-linked, so that even if an individual were found in more than one county, they could be located in the index. At the same time, volunteers were found who were willing to coordinate the collection of databases and generally oversee the contents of the web page. The Washington GenWeb Project is an extension of the KY GenWeb Project.
If your interests lie in another county in Washington and you would be interested in helping it grow by either adopting it or contributing to the database, please contact Mike Sweeney
---
Washington State Links
---
Clark County Queries and Lookups
---
Clark County Links
---
Miscellaneous Genealogy Links
---

Personal Web Pages of Clark County Researchers
If you have your Clark County families on your personal web site, you can email me and I'll be glad to add a link
---
Links to Neighboring Counties

Located across the Columbia River from Vancouver, many people came to Clark County to be married because there was no waiting period, nor required blood tests.
---
---
Join Clark County's Mailing list
To subscribe, address your email to
Type "subscribe" in the subject line (without the " ").
---
Join the CCGS weekly chat line

The Clark Co. Genealogical Society has started a weekly chat for interested Clark County researchers. It takes place every Thursday evening from 7 to 9 PM (Pacific standard/daylight time). To enter, click HERE and follow the instructions on their site. Hope to meet you there!
---
Back to Washington Gen Web
The Clark County Coordinator is ALICE ALLEN.
These pages were last updated April 5, 2008
Links last checked on March 14, 2008
Copyright 1996-2008 by Alice Allen