King County Histories
Return to the History Index.
---
Brutal Murder of a Child Bride, Agnes Irene (McCombs) Covington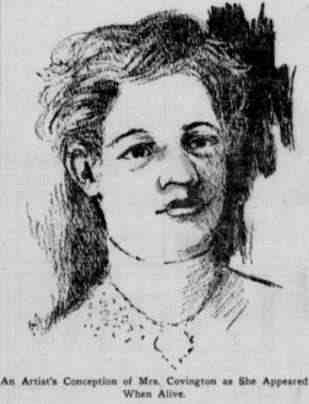 Though her life was brief and the memory of her now gone, in 1907 a young woman's murder captured the headlines in Seattle and many locations in the country. The known details of her death were chilling, and those alive at the time eagerly awaited resolution of her mysterious death and for someone to be held accountable. The victim was Agnes Covington, a 17-year-old bride of only six months, and her young body was found wrapped in a quilt and stuffed in a trunk that washed ashore near Alki Point, King county, Washington. An article of her own underclothing had been wound tightly around her slim neck and used to squeeze the life from her, while a portion of a man's vest had been crudely shoved into her mouth, silencing her cries for help. Despite the best efforts of the killer to conceal his crime by weighting down the trunk with rocks and tieing a rope around its exterior, it made its way to the shore and eventual discovery by Steffen Anderson on September 22, 1907. The groom, Frank Covington, and his pal, Charles "Chas" Burilson, were nowhere to be found.
At first, the police thought the dead girl was Edith Covington, of St. Paul, Minnesota, because a letter had been discovered inside the trunk addressed to Frank Covington and was signed, "your sister, Edith." However, Miss Jennie Robinson and Mr. George Robinson, 721 Yesler Way, aunt and uncle to Agnes, came forward and identified her swollen and distorted body by recognition of a slight depression on the bridge of her nose and a mole on a finger.
Agnes had first met Frank in Portland, while she and her grandmother were guests of a Mrs. Mitchell. At the same time, Frank and Charles were roomers in Mrs. Mitchell's home. There Frank took a fancy to Agnes, complimenting her and offering small gifts. The two became infatuated with each other, and when Frank traveled to Seattle soon after, he made a point to visit Agnes and her grandmother. Not long after, and apparently against the advice of family, the two were married on March 8, 1907. Frank was 21 and originally from Kentucky, Agnes 17 and from Seattle, the daughter of Truman McCombs and Victoria Robinson.
Many young women of the day married successfully, building happy lives and large families with their husbands. However, Agnes was not lucky in her choice of Frank, and there would be no happy honeymoon. Both were strong willed and opinionated, unprepared for the early struggles and give-and-take of marriage. Adding to her misery, Agnes's family rejected her in the months following her wedding as they no longer cared for her husband, having discovered that he had entanglements with a woman in the restricted district, and angry that she had stubbornly refused to listen to their warnings about his character. In the rooms on 916 Fifth Avenue, where the couple resided for a time, they quarreled bitterly and loudly, so much so that the landlady, Mrs. Pulver, received many complaints from disrupted and unhappy boarders.
Although Frank worked, there was little stability in their lives, and they moved frequently. He was employed for a time by J. J. Kelley, a wholesale and retail liquor dealer, on First Avenue as a liquor salesman, and clients later recalled him complaining bitterly about Agnes. On one occasion, Frank had an abrasion on his forehead and blamed the assault on an angry Agnes wielding a flat iron. During this time, Agnes also worked as a waitress, which her family believes was not out of choice but rather that Frank demanded it.
The unhappy newleyweds eventually occupied three rooms in the Keswick apartments, Ninth Avenue and Stewart Street, from June 29-September 6. Again, they continued to quarrel loudly, and neighbors complained that they could hear ugly shouting and Agnes crying through the walls. They also claimed that she was drinking heavily. The landlord, W. H. Mackay, told his wife to raise the rent on them and force the couple to leave. Instead, possibly out of kindness, Mrs. Mackay only warned them to behave or they would need to leave. Suddenly and abruptly on September 6, 1907, there was silence. Frank and Charles vacated the premises and Agnes's lifeless body would soon be discovered in a trunk.
Headlines following the discovery of Agnes's body included "Hot on Murderers Trail," "Say Murderer's Arrest Only Days Away," "Arrest Within Days." There were numerous "sightings" of the men from Alaska to Peru, and at one point, the police may actually have come close to an arrest. On September 26, 1907, two strangers in Oakland, California, who were behaving rather suspiciously, caught the attention of a police officer who took them to the West Oakland lockup for questioning. The police were unaware of the situation in Seattle, and finding no reason to hold the men, released them from custody. The men had been awaiting an outgoing freight train and promptly left the city. Not more than half an hour later, the police received a telegram from Seattle police regarding two wanted men in connection with the murder of Agnes, and their descriptions closely matched the two men just released. The Oakland police felt certain they had inadvertently allowed the two potential murderers to go free.
Months passed and despite wanted posters and great effort by the Seattle detectives, the trail went cold. Meanwhile rumors ran wild as people speculated, including Agnes's family, as to what had led up to her murder. Some believed that she had rebuffed the advances of Charles Burlison, angering him, and he had strangled her, while others believed he was a gentleman and became an uncle figure to Agnes and that his only crime was helping Frank dispose of her body.
Another strange story was told by Mrs. Mitchell, in Portland, where Frank and Charles had resided before moving to Seattle. Mrs. Mitchell claimed that on a lark she encouraged Frank to disguise himself as a woman, which he did, even wearing a wig and calling himself "Mrs. Blank." Everyone was completely fooled by his disguise, and he seemed to especially enjoy flirting with men. However, once discovered, several men were enraged and threatened bodily harm. Somehow, he and Charles managed to soothe the angry people and avert physical retribution for his charade. Due to this story, Agnes's grandmother, Mrs. Robinson, worried that Frank was still in Seattle and impersonating a woman and could literally be right under their noses.
Despite much initial attention, eventually all leads vanished and the trail went cold, and Agnes's story disappeared from the newspapers. Frank Covington and Charles Burilson somehow managed to forever evade authorities and capture, never facing justice for taking the life of a child bride.
---
Written by Deb Nelson, 03-02-2011, based on various newspaper articles. Note: Above images are from the Seattle Star, 1907. Unable to locate a photo of Frank Covington.