Newspaper Extractions
Return to Histories/Biographies.
---
The Seattle Star, December 4, 1909
THE STORY OF GLADYS.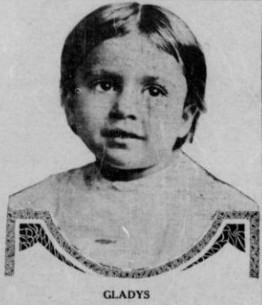 Here is he story of little Gladys. It is a plain little tale; one of an hundred thousand like it and an hundred thousand more, yet it will catch at the heart strings of the bluntest of us and pull as strongly as ever it pulled, for it is of a little child who, born to the shadows, has been led by sad paths out into the sunny places. And that's the sort of story that sets the big, busy human heart to pulsing and makes it warm to do the softer, finer things.
Read the story if you have the moment by you, and then ANSWER THE QUESTION.
Little Gladys was born in a farm town of Soutwestern Washington, and it was no bright home she was born to, for her father was an invalid and so poor that, at the beginning, she was robbed of her heritage of happy days and there was none to fight for her birthright.
From sick to well and well to sick, the little mite made childhood's fight almost unaided until she came to the age of three.
Then, if ever, the clouds should have blown by and left her with the blue sky over her, but there was nothing of the sort cast in her sad little horoscope. Instead, the hand of Providence fell with a killing blow. Scarlet fever, scourge of misery and maker of tiny graves, took her for its victim and for days she was torn with the convulsions of that awful malady. In the end life itself was all it left her, and it did that grudgingly, for it left her deaf for the rest of her days to every sound of gladness.
And also it left her a waif, for during her illness both her father and mother were taken from her, and they left her not even the guardian ship of relatives.
Her case was brought to the attention of the Children's Home Society and she was brought to Seattle. When she was old enough, she was sent to the school for the deaf and dumb, which the city maintains in the Longfellow school building. And then came her chance--her first promise of restored birth right. Given opportunity, the little mind developed as a flower and her brightness quite won her teachers. Though she could not be made to hear, she was taught to speak and to study and know the movement of the lips of those with whom she speaks.
Then came more good fortune, for her teacher found for her the home that, since birth, she had not had. The father of it thought long before he took a deaf child in, but at last he succumbed to her winsome appeal, and now, were she his own flesh and blood, she would play no sweeter tune upon his heart strings.
This is the way the Washington Home Society works. It is these for whom it works. It is around such as these that it will build that "fence," in which the dollars you may give will be the tickets.
Having read the story of little Gladys, will you HELP TO BUILD THE FENCE?