"Sprague Advocate" Obituaries:
Sprague, Lincoln County, Washington, Submitted by Barbara Curtis
Page 1
---
Taken from the newspaper "Sprague Advocate". Listed alphabetically by surname.....
(There was an influenza epidemic in 1918)
---
MRS. BEULA WILLIAMS BRADLEY DIES AT PUYALLUP
The Sprague Advocate, December 13, 1918
Sprague people were shocked Wednesday, Nov 27 by the report that death had called BEULA WILLIAMS BRADLEY to another life.
Mrs. Bradley left Sprague last July to reside on the coast at Puyallup where her husband, T. J. BRADLELY was employed in government work in the ship yards. It was there that she was stricken with the influenza-pneumonia epidemic, being ill but nine days. Beula Williams was born in Sprague, June 1, 1893, where she attended the grammar and high school from which she graduated in the class of 1912. Beula's school friends regarded her as a girl of much character. Honesty and sincerity being pronounced characteristics. She was united in marriage at Tacoma April 10, 1913 to T. J. Bradley. After two years residence on the coast they returned to Sprague where a little daughter, Jomyla came to bless their home.....Mrs. Bradley's death coming so suddenly just when life seemed at it's fullest and best is a sad blow to the community and especially to her bereaved family. Besides her devoted husband and little daughter, she leaves her parents Mr. and Mrs. T. C. WILLIAMS, Sprague, sisters MYRTLE, Sprague, Mrs. LOYD CHENOWETH, Puyallup, and a brother LESTER WILLIAMS, Seattle, to mourn her departure. Funeral services were held Friday, November 29th at the OSBORN undertaking parlors. Floral offerings sent were many and beautiful. She was laid to rest in the Tacoma Compartment Mausoleum at the Oakwood Cemetery, Tacoma.
---
FORMER SPRAGUE BOY DEAD
Friday, October 25, 1918
CHARLES CLINTON, nephew of Mrs. J. L. GARVEY died at Spokane last Saturday, death being due to influenza. He lacked only one day of being 19 years old. He was born in Sprague and lived here until 7 or 8 years of age. At the time of his death he was a student at the Gonzaga university. He had applied for admission to the students army training corps but had been rejected on account of a weak heart. He was an exceptionally bright boy in his studies and in everything he undertook. He leaves a mother at Sand Point, Idaho, two brothers, EDWARD and FRANK in the service and one brother, LEO, wounded and returned from service.
---
FORMER SPRAGUEITE DIES IN SPOKANE
July 16,1925
MRS. FELICIE DAWANT, a former Sprague resident passed away last Monday a her home in Spokane. She came to Sprague from Belgium in 1886 and her husband worked in the railroad sops here. When the shops burned they farmed north of town for many years. About 1908 they moved to Spokane where they have lived since. Mr. Dawant died several years ago. She is survived by two daughters: Mrs. E. E. SNYDER and Mrs. WILLIAM T. FIELDS, both of Spokane; three grandchildren and one great-grand child. She was 78 years old. The funeral was held yesterday from St. Aloysius church, Rev. Father O'MALLEY officiating. Burial was in Fairmont cemetery.
---
GLEN O. DOAN
The Sprague Advocate, December 20, 1918
GLEN DOAN was known to many people in Sprague having lived here for several years before removing to Cheney about a year ago. He was born at Webb, Iowa, May 26, 1897 and died at Cheney, Wash. Dec 6, 1918 thus being in his 22nd year. Death was due to influenza followed by pneumonia. On Oct. 15, 1916 he was married to Miss NORMA B. ALFORD, a sister of Mrs. DICK BOYER, and to this union was born a daughter, MARION. Besides his wife and daughter he leaves to mourn his loss, a father , one brother and numerous friends.
---
MRS. BEN ETTLESON DEAD
The Sprague Advocate, Friday, December 6, 1918
Word has been received by HOWARD MILLS that MRS. BEN ETTLESON of Portland, died on Nov. 30. Mrs. Ettleson was a resident of Sprague for a number of years. She was married to Mr. Ettleson in 1885. They lived here until 1911 when Mr. Ettleson died. Mrs. Ettleson then moved to Caldwell and lived with her brothers for two years. From there she moved to Portland where she was at the time of her death. Two sons, JESSE and BEN, and a daughter SADIE survive her.
---
FRANK R. GILLESPEY
Killed in Auto and Train Collision
The Sprague Advocate, November 15, 1918
FRANK R. GILLESPEY was killed on the evening of Oct. 25, at Winter Haven Florida, when a train collided with an auto driven by his son COORDES. The accident occurred in a cut where it was impossible to see the train and the train was said to be running without a headlight. Two other men in the auto were killed and Coordes was badly injured but may recover. Mr. Gillespey until a few years ago lived at Sprague on the Day and Rothrock ranch. At Winter Haven, Fla., he built a beautiful home and acquired an orange grove. He was married 18 years ago and is survived by a wife and three children. His parents, two brothers, and two sisters live at Terre Haute, Ind.
---
MRS. N. A. HAMLEY
The Sprague Advocate, December 20, 1918
MRS. N. A. HAMLEY died at her home in Pasco Wednesday morning Dec. 18. Mrs. Hamley lived here until about two years ago when she moved with her husband to Pasco. Death was due to heart failure. A. L. Hamley was called to Pasco Tuesday on account of the illness of his mother. JIM ARNOLD and MRS. HARRY MILLER also left for Pasco Tuesday evening on account of the seriousness of Mrs. Hamley's condition. But she did not survive long after their arrival. Funeral services were held at Pasco Thursday afternoon and this morning she is to be taken to Spokane for burial. Besides her husband she leaves two sons: A. L. Hamley of Sprague and Dr. E. C. Hamley of Pasco.
---
PROMISING LIFE ENDS
The Sprague Advocate, August 15, 1913
WINFIELD ROY JOHNS, son of MARY A. JOHNS, died at the SAM THORSLAND home on Saturday evening , August 9, of tubercular peritonitis. The illness first developed, about nine years ago at which time he underwent an operation. His health was fairly good since that time, permitting him to continue his work until last April, when his condition caused him to resign, in order to take medical treatment. Another operation was performed the latter part of May which did not produce the desired result. He took to his bed about ten days ago, the end coming rapidly. Mr. Johns was born in Perry, Pike County, Illinois, on August 10, 1883, living there until about nine years ago, when he came to this state to work at his profession, that of civil engineer. He was a graduate of the Scranton, Pa., School of Engineering and has been employed for nine years in the Great Northern Railway Survey, the past two years on the Peach extension in this county. He was deeply interested in his work, was of a deliberate conservative type and no doubt would have been highly successful in his chosen profession. He was the youngest of 6 children, his mother, one brother, JAMES, of Whitefish, Montana, and two sisters, MRS. W. H. BUCHANAN and MRS. THORSLAND surviving him. Mr. Johns was an exemplary young man, devoted to his mother and sisters and greatly beloved by them. He was temperate in all things and lived his life, along regular lines, winning the admiration and respect of all who knew him. His taking away at such an early age is a great shock to his loved ones. The thought that his life though short, was lived in rectitude and honor is their great consolation.*
---
DEATH OF MRS. KINNEY
The Sprague Advocate, May 15, 1914
MRS. J. P. KINNEY mother of Mrs. S. B. BURDASS died at the home of her son J. E. KINNEY at 625 West 45th Street, Seattle, on Saturday, Apr 25, of the complications of age. Mrs. Kinney was born in 1850 in Illinois and at the age 18 lived in Kansas where she married J. P. KINNEY. Five children, one boy and four girls were born to them of whom four are living, Mrs. L. Y. WILLIAMS, of Kent, Wash., Mrs. .S. B. BURDASS of Sprague, J. E. KINNEY of Seattle, Mrs. E. O. JOHNSON of Enumclaw, Wash. The family came to Washington 25 years ago and settled in Sprague. After a brief stay here they removed to St. John where Mr. Kinney ran a store for 10 years afterwards coming to Sprague again. They left here about 8 years ago and have lived in the Coast country since. Mr. Kinney departed this life Dec. 2, 1909.
Mrs. Kinney was buried at Kent, Wash., on Sunday, April 26. Mr. and Mrs. Burdass and Mrs. PRESTON WOOD of Sprague attended the funeral. The funeral was largely attended and the floral offerings were profuse and beautiful. Mrs. Kinney was a patient sufferer and a firm believer in her Saviour so was ready to answer the last call.
---
LOTTIE LAKIN DEAD
Friday, Mar. 23, 1917
Mr. and Mrs. GEO. LAKIN who returned home last week from a visit with relatives in the east, report the death on March 3, of Mr. Lakin's sister LOTTIE, aged 47 years. She died at Springfield, Ohio of stomach trouble and was buried at the old home in Point Pleasant, Ohio. Miss Lakin lived with the Lakins here in 1912 and 1913 and made many friends who remember her with genuine affection. She was a school teacher, a graduate of the Ohio Weslyan at Deleware, Ohio, and had taken considerable work at the University of Chicago. She taught school at various times in Iowa, Colorado, Illinois, Ohio and at Los Angeles, California. About a week previous to her death, on February 26, CHAS. KAYSER, father of Mrs. LAKIN also died and was buried at Moscow, Ohio. Mr. Kayser was about 75 years old, a native of Germany and was a civil war veteran having fought as a cavalryman in an Ohio regiment.
---
ROY LARUE DIES IN SEATTLE
April 20,1939
JOHN DUNCAN received word Monday night of the death of MRS. DUNCAN's uncle, ROY LARUE, who lived in Sprague at one time during the building of the S. P. & S. railway. He was associated with his brother LESTER LARNE, in the freight business. Lester moved fro Sprague to a farm in the Lamont country and Roy went to Seattle where he resided until his death.
---
THOS. McALLISTER Passes Away
The Sprague Advocate - Friday, July 4, 1919
The death of THOMAS McALLISTER, pioneer and retired businessman of Sprague occurred early Thursday morning July 3 after a general decline in health and strength continuing for some time. Mr. McAllister came to Sprague in 1884 and started a harness shop on the north side where the North Side barn now stands. Later he built and moved into the two story brick building now occupied by the Pechtel cigar store and the Martin rooming house. Here he conducted his business as harness dealer for many years in his quiet, industrious way making many friends and being loved and respected by all. About two years ago, then being about 80 years of age he retired from business and has lived at his home here in Sprague. As relatives at Sprague he leaves his wife and a step-daughter, Mrs. GEO ELLS. If funeral arrangements are made before going to press announcement will be made in another column. (This obit can also be found under Maccabee Cemetery M.)
----------------------------------------------
THOS. McALLISTER
The Sprague Advocate - Friday, July 11, 1919.
THOS. McALLISTER, the son of Mr. and Mrs. HENRY McALLISTER was the youngest of thirteen children, having ten brothers and two sisters. He was born at St. Johns, New Brunswick on Apr. 10, 1837. He lived there until about 21 learning the harness trade. He then went to Boston where he worked for a number of years. During the civil war, he worked in the arsenal. He then engaged in business in Chicago where he remained for 12 years. Leaving there he came west and located in Portland where he was for about 9 months. He then came to Sprague in 1882 and started a harness shop being in business until two years ago. In 1888, he was married to Miss SARAH POLSON. One child was born to them who died then 6 months of age, the mother following her child in death in 1894. His marriage to Mrs. MARY E. HUFF took place in 1895. Mr. McAllister was a member of the Congregational church and also a loyal member of the I.O.O.F. Funeral services were held at the Congregational church Sunday, July 6. Rev. JONATHAN EDWARDS of Spokane but formerly Mr. McAllister's pastor here, delivering the sermon. Mr. McAllister is survived by his wife and adopted daughter, Mrs. GEORGE ELLS of Sprague.
He leaves a host of sincere friends whose lives have been enriched by knowing him. The high tribute paid him by everyone testify to the uprightness of his character. The burial was at Maccabee Cemetery where the Odd Fellows had charge of the services. (NOTE: Although I do not have documentation to prove who Thomas' parents were, I believe they were JAMES McALLISTER and SARAH ELEANOR BARANNEN, of Sussex, New Brunswick. I am also aware of only eight brothers and two sisters, one brother of which was Henry --hence the possible reason his father is identified as Henry. It is possible there were two more brothers and I simply have not located them yet. Sarah Polson (Poulson), Thomas' first wife died 10 March 1895.] Submitted by Jan Mackie, family relative, November 30,2002
---
FRANCIS A. McGOUGH
The Sprague Advocate, Nov 15, 1918
The entire Sprague community was shocked to hear last week of the death of Francis McGough. He passed away at the home of his parents at E. 801 Boone Ave. Spokane after a few days illness with pneumonia following an attack of influenza. FRANCIS ALAYISIUS McGOUGH was the fourth son of Mr. and Mrs. P. E. McGOUGH, a well known pioneer family here. He was born at their farm home on Dec 29th 1892 and with the exception of a few months has spent his entire life in this community. He attended the local public schools and since grown to manhood has engaged in wheat farming with his brothers who now operate the McGough farm. During the winter months for several years he has worked in the shoe department of Culbert-Grote-Rankin and in the Model Boot Shop in Spokane. He went to Camp Lewis with the October 1917 quota from Lincoln County but was honorably discharged in December owing to a lame ankle which resulted from a broken leg some years ago. Frank was an exemplary young man, admired, respected and loved by all who knew him. His kindly quiet ways and gentle courtesy endeared him to every one with whom he came in contact. In his last moments he was soothed and comforted by ministrations of the Catholic church of which he was always a most sincere and devoted member. He leaves to morn his loss his father and mother, sisters CARMEL and IRMA of Spokane, brother EPHRIAM, JOHN and LEO, who reside here and RAYMOND who is in training at Camp Lewis. A host of relatives and friends join with the family in their deep sorrow. Funeral services were held Saturday morning Nov 1st from St. Alayisius church in Spokane, REV. FR. MACKIN officiating.
---
WILLIAM J. McDONALD
The Sprague Advocate, Dec 20, 1918
A telegram was received here last Saturday by JOHN A. McDONALD that his brother WILLIAM J. McDONALD had been killed in action in France Sept. 28. William who was 26 years old was the only brother of JACK McDONALD. He was born in Minnesota but lived here most of his life attending school here and graduating from the local high school. He left here for Camp Lewis last June and many remember when he bid them goodbye. He landed in France in August. Besides his brother Jack, he leaves two sisters of Spokane, MRS. T. A. SIRGINSON and MRS. G. A. HENKEL.
---
GEORGE MURPHY
Friday Oct 31,1913
GEORGE MURPHY a pioneer of Spokane, who served for six years in the court of JUSTICE GEO. STOCKER as bailiff, died Sunday at the veteran's home at Port Orchard. The pioneer, who was a war veteran, had not only served in the ranks, but had seen service in the navy. He won a medal in the war for bravery when, with a few men, he made a capture against great odds. The G. A. R. will have charge of the funeral--Review. Mr. Murphy was a Sprague business man years ago being associated with a Mr. Burns who was postmaster.
---
DEATH OF PETER O'CONNER
The Sprague Advocate, Fri., January 28, 1916
PETER O' CONNER a resident of the Sprague county for over 30 years died at Sacred Heart hospital in Spokane on Tuesday. The funeral was held Thursday from St. Mary's church, presided over by Mr. O' Conner's former pastor at Sprague, FR. CUNNINGHAM. Burial was made in Spokane. JOHN MOYLAN and DR. BITTNER attended the funeral. Mr. O' Conner was born in Ireland about 77 years ago and came to the Sprague vicinity with his wife over 30 years ago from California. They settled on a homestead in the Renaud district and it was here that Mr. O' Conner lost the sight of both eyes in blasting for a well. This occurred nearly 30 years ago. The couple had no children. Mrs. O' Conner who is at Sacred Heart hospital is about 87years old and is in very feeble health. Her death is expected at any time.
---
CYRIL PEYTON DIES
Friday, Jan. 5, 1917
While enjoying a Christmas celebration at his home, E429 Boone avenue, Monday evening, CYRIL PEYTON, aged 12, became seriously ill with nephritis and died Friday morning, December 29. He was a student at Gonzaga university and had suffered from a form of kidney trouble since last March, but not until Christmas night was his illness considered serious. He is survived by a mother MRS. P. PEYTON, and the following brothers and sisters: Mrs. F. P. GOODWIN and JOHN G. of Sprague; and WILLIAM, MARY, NELLIE, EDWARD and GENEVIEVE PEYTON, all of Spokane. He was born in Travis county, Minnesota, and has lived in Spokane for the last 10 years. The family resided in Sprague previous to coming to Spokane-Chronicle.
---
O. J. SMALLEY DIES
The Sprague Advocate, March 31, 1916
Mr. O. J. SMALLEY died at his home in Harrington at 2 o'clock Friday morning after a prolonged illness of erysipelas and diabetis(sic). He is survived by a wife, a son, and a daughter and two brothers. Mr. Smalley is a pioneer resident of this city, having worked in early times with the Harrington Milling Company and later served the city as its peace officer for a number of years. The funeral will be held at 2 o'clock Sunday. The family have the sympathy of the community in their sorrow. Harrington Citizen. A. L. PARK, J. H. SMALLEY and wife of this city attended the funeral.
---
CLAUDIE IRENE STOLP
The Sprague Advocate, March 10, 1916
The little child of Mr. and Mrs. J. A. STOLP of Weston, Oregon, was buried Wednesday morning. The funeral was held from the Methodist church, REV. J. F. COOK officiating. CLAUDIE IRENE STOLP was born at Athena, Oregon, and was 1 year 3 months and 20 days old.
---
MRS. DAN SULLIVAN DEAD
The Sprague Advocate, November 1, 1918
Mrs. DAN SULLIVAN, nee CELIA MCKUNE, died at Spokane Tuesday of the influenza. Mrs. Sullivan was a sister of MRS. J. L. GARVEY. She formerly lived in Sprague and was married here. Mr. Sullivan being a clerk at HERTRICH and MOYLAN's. She leaves her husband and a boy 6 years old. She helped care for her nephew, CHARLES CLINTON, whose death was reported last week and in all probabilities she acquired the disease at the time.
---
DEATH OF AGED LADY
The Sprague Advocate, Friday, Feb 14, 1913
Miss HANNAH LOUISA WEED an aunt of Mrs. N. A. HAMLEY died at the N. A. HAMLEY home on Sunday last aged 74 years, 9 months and 1 day. Her illness was of long duration and death was caused by a complication of diseases. Funeral services were held at the residence on Tuesday REV. OWEN of the M. E. Church officiating. The body was shipped to Maquoketa, Iowa, Wednesday evening and was accompanied by DR. E. C. HAMLEY. HANNAH LOUISA WEED was born in Greenfield, Saratoga, Co., N.Y. May 8th, 1838 and died Feb. 9th 1913. Her girlhood was spent in the city of her birth and in Washington, D. C., where she received her education. In 1855 the family moved to Iowa settling at Maquoketa, which place had been her home until four years ago, when she came to Washington. When quite young she united with the M. E. Church in which she was an earnest worker. For a period of 25 years she was the treasurer of the Ladies Aid Society of Maquoketa. She was a woman of refinement, of cheerful disposition, and by her quiet demeanor endeared herself to a host of friends and relatives who mourn her death. She was always deeply interested in all church work, lived the life of a sincere, conscientious, and consistent Christian and was sustained and comforted in the closing hours of her life by an unfaltering trust in her Savior.
---
SPRAGUE PIONEER DIES
Oct 31,1913
FRANK P. WEYMOUTH, one time Division Superintendent of the N. P. Ry. with headquarters at Sprague, died in Spokane on Thursday evening of last week. He moved to Spokane after the big fire here in 1895 where he has been prominent in the administration of the city business, particularly the water department........... The funeral was held Sunday afternoon.....the floral offerings were elaborate and in exceptional quantities and of great beauty.
---
MRS. FRANK WINSHIP DEAD
The Sprague Advocate Mar 31, 1916
County Commissioner CHARLES R. HOWARD has received a letter from Frank M. WINSHIP, formerly of this city telling of the death of Mrs. Winship, March 22, at Chula Vista, Cal. She was buried at San Diego March 24. Mr. and Mrs. Winship were formerly well known here, where Mr. Winship was with the Quick Print. He later operated the Sprague Herald, afterward conducting a general merchandise business at St. Maries, Idaho, and more recently operating a lemon grove at Chula Vista, Cal.-Chronicle. Mr. Winship published the Herald here in the '90's and the family will be remembered by many Sprague folks.
---
VERA DAISY WOOD
The Sprague Advocate , Nov 1, 1918
VERA DAISY WOOD was born May 23rd 1901 on the old PRESTON WOOD farm 6 miles east of Sprague and died Oct 9th, 1918 at Opportunity, Wash., aged 17 years, 4 months and 16 days. Her whole life was spent in the immediate vicinity of Sprague, she having attended the Fairview, Miller and Sprague schools. When Spokane University opened this fall she enrolled in the Junior class of its preparatory department where she made a place for herself seldom attained by one in so short a time. It is the consensus of opinion on the part of all her teachers that it had never been their privilege to have a more conscientious, painstaking student than Vera. Her cheerful disposition and her willingness to serve others will be long remembered by those who knew her well. Her father and mother, MR. and MRS. PRESTON WOOD, and her brother ALWIN besides a host of friends, survive to mourn her loss. The services were held from the U. G. ROBINSON residence Oct 11th, 1918. REV. O. E. FAULKNER read the Scripture less and offered prayer, the ladies from the Rodna neighborhood furnished the music, and G. R. SCHLAUCH, a former pastor of the family delivered the message. Burial took place in the Sprague Cemetery. "Thy youth was lovely, like the flower, Of fairest bloom, which soonest dies: The gardener came at early hour, And took thee to the upper skies."
---
Our special thanks to Barbara Curtis.
Typed "as is", and sometimes edited, by R. Gleaton. Used with permission.
Thank you to Jan Mackie for the addition of Thomas McAllister.
===================================================
USGENWEB NOTICE: In keeping with our policy of providing
free information on the Internet, data may be used by
non-commercial entities, as long as this message
remains on all copied material. These electronic
pages may NOT be reproduced in any format for profit
or for presentation by other persons or organizations.
Persons or organizations desiring to use this material
for purposes other than stated above must obtain the
written consent of the file contributor.
This file was contributed for use in the USGenWeb.
====================================================
© Copyright 2005 WAGenWeb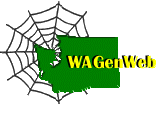 This page last updated March 31, 2008.