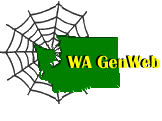 Stevens County Queries--1997
---
BENNETT
J. Hurn Sun Apr 27 00:45:39 1997
Looking for information on BENNETT, Jack.

BISHOP, BURGESS, HOPPER, MARTIN, HUMPHREY, POWERS
Bill Martin Thu Nov 20 1997
Virginia F. "Jennie" BURGESS (daughterof Elias [son of Bedy] BURGESS and Hester Ann BISHOP), born 11 Jun 1854, Madison Co., IA, married (Calvin) Ari HOPPER on 24 Sep 1871, Mendocino Co., CA (he was born 18 Apr 1845 in MO, son of William HOPPER and possibly the brother of Thomas B. HOPPER [who married Jennie's sister Mahala].
Jennie and Ari HOPPER are listed in 1880 census for Calpella Township, Mendocino Co., CA, and moved to Stevens Co., WA by 1892. They had at least the following chidren:
(1) Laura HOPPER (b. Sep 1872, CA) married Samuel John MARTIN in 1874. One known child, George Irvin MARTIN, b. 22 Oct 1895, Midway, B.C., Canada.
(2) Hattie HOPPER (b. 23 Sep 1874, CA) married Thomas HUMPHREY 27 Feb 1896 in Stevens Co., WA. They are listed in the 1901 census as residents of Anaconda, B.C., a mining camp one mile south of Greenwood, B.C. They had children: Irene M., b.4 Apr 1897, B.C.
(3) Lulu HOPPER (b. 5 Sep 1876, CA) married William POWERS, listed in 1901 census for Midway, B.C. and had children: Violet, b. 13 Jul 1895, B.C.
(4) Jenetta HOPPER (b. 1878, CA)
(5) Alvin HOPPER (b. 2 Apr 1892, Stevens Co. WA) If you have knowledge of any of these persons, I'd like to correspond with you and share my data.

CUMMINGS, HARTMAN
Don Hartman Sat Mar 29 06:53:47 1997
Looking for descendants of Alpahris (Alfred) Baker CUMMINGS, b. 11 Jun 1863 and Mary Elizabeth HARTMAN, b. 30 Aug 1864. They are buried in Colville, Stevens Co., Washington.

DEFENDER MINING COMPANY
B Gaskell Thu Feb 13 14:51:06 1997
I would like to find any information about the Defender Mining Company from the early 1900's. It is listed as follows: in the Pierre Lake Mining District, Colville Indian Reservation, Stevens County, Washington, on the Kettle River, three quarters of a mile from the town of Orient. Any information or leads on this company would be very helpful to our search. Thank you for your help!

MASTERSON, SMITH, BURT, JARVIS, QUILLEN, BUCKLEY, DUNWOODY
Lori Howard Tue Mar 25 12:28:03 1997
I am looking for information on Henry Clay MASTERSON, Adelaide SMITH MASTERSON and family. Henry Clay MASTERSON and family moved to Stevens Co. around 1902. His children and their spouses were: Mittie MASTERSON m. C.O. SMITH; Jane MASTERSON m. Albert BURT, Henry JARVIS; Ella MASTERSON m. Frederick O. QUILLEN; Etta MASTERSON m. William Louis BUCKLEY; Joseph Roy MASTERSON m. Minnie DUNWOODY. I would be interested in any information and would be happy to share the information that I have.

HALL
Ken Tessendorff Thu Jan 16 15:46:14 1997
I would like to make contact with anyone researching the HALL family in this county.

JUDSON
Linda Dolby Thu Feb 20 13:05:03 1997
Researching JUDSON surname; would like to exchange data; presently have 8500 names in database.

KINNAN, HOUSTON
Lori Howard Tue Mar 25 12:17:57 1997
I am looking for information on Harvey Melvin KINNAN and family. Harvey KINNAN was married to Nannie Mae HOUSTON KINNAN. They were both born in Pennsylvania. They came to the Colville area prior to 1902. They had nine children: Ralph, Lola, Walter, Vern, Blanche, Joseph, Charlie, Maude, and Harvey. I would be interested in any information on the KINNAN family and I would be happy to share the information I have.

KNAPP, McCABE
Betty VanLeer Sun Feb 9 18:44:49 1997
Looking for information on William D. McCABE b. Ripley Co., Ind in 1847. He and his mother and father (Alexander and Rodah KNAPP McCABE), and a brother Perry Hill McCABE came west after 1860. Perry H. Died in Polk Co., Ore in 1903. I know by old genealogy that William died in N.W. Wa., and he had at least 2 children Ivy Pearl and Ed. Perry was 7 years older than William so he may have died earlier than 1903 or later. Can anyone be of assistance? I realize I have very little info but I am hoping someone will help.Perry left an estate in Ore., so William probably did also. Is there a database online? Thanks for you time.

LAIRD
Pat Ward Wed Aug 6 15:12:28 1997
I am researching the family of Lillian LAIRD . I have the birth certificate of her son and at that time she said she was born in Marcus, Stevens County, Washington. Lillian was born in 1903. Any information will be greatly appreciated. I notice that ther were quite a few LAIRDs in Stevens county in 1910, but I could not locate Lillian. Thank You.

LOGAN, REPLOGLE, WOLFE
Jan Snodgrass Fri Aug 29 03:42:51 1997
Am searching for William R (Robert) LOGAN aka REPLOGLE b 6 Apr 1855 Deckers Point Indiana County PA d 17 Jan 1935 Colville WA bur 22 Jan 1935 in HIGHLAND Cemetery. I haven't been able to locate a Highland Cemetery. William changed his name by court order stated on his death certificate. He worked before his death at an Indian Reservation in Colville, but I haven't been able to determine which one. m Lottie Lavania WOLFE 1 child Bessie Thelma REPLOGLE b 5 Apr 1887 in PA He was my g/grandfather

MOORE
Matthew Moore Mon Feb 17 12:11:22 1997
I am looking for information relating to my father's family. I am afraid that I don't have much to start with. My father's name was Walter Emerson MOORE. He was born somewhere in the state of Washington, (he was very proud of that) and his father's name was Joseph Longfellow MOORE Joseph's mother was a Blackfeet indian. The family moved to New York during the Depression. I believe that my father was born around 1919. Sorry for the paucity of information, but that's all I have. Can you please help me? thank you,

PETERSON
Terry Patterson Wed May 7 17:21:48 1997
I am searching for information on Olaus PETERSON, a pioneer of Colville. Olaus was married to Matilda May 19, 1881 in Longasjo, Sweden. The following year they set sail for America. They lived for several years in Wisc. according to the death certificate for my grandfather. In 1893 they moved to the state of Wa. and settled near Colville. They later purchased property in Colville and moved to Spokane, Wa. about 1913. Any information regarding this family would be greatly appreciated. Thanking you in advance

QUIGLEY
Bill Page Sun Jul 20 9:10:41 1997
Am seeking information on a Sylvester QUIGLEY who is listed in the 1900 soundex for Washington. The information on the soundex states that he is white, born in Sept. 1844 in Ohio. He was residing in Stevens County, Loon Lake Pct. at the time of the taking of the census. Any help will be greatly appreciated. Bill Page.

REED, CARPENTER, ELWOOD
Claudia Vickery Thu Mar 20 05:59:53 1997
Seeking descendants of Susie REED (b. Jul 1883 CO). Dau of Sarah CARPENTER (b. Dec 1853 IL; d. 8 Jul 1903 Eastern Washington State Hospital at Medical Lake, Spokane Co. WA) and Ephrim REED (b. 1836 IA). Susie first married George FAY in Gilpin Co. CO abt 1900. She married 2nd Isaac ELWOOD 23 Nov 1903 in Stevens Co. WA. When did she die? Where is she bur? Did she marry or have children? Her grandparents Hiram and Susannah CARPENTER are buried in Greenwood Cemetery, near Hunters, Stevens Co. WA.

REED, PARSONS, SCHOOLCRAFT, O'DELL, SCOTCH
Joyce Sinnett Sun Feb 9 12:16:18 1997
Allen Stuart(Stewart)REED, b.11 Feb 1861 Calhoun Co., WV d. 21 Apr 1938 WA m.[1] Elizabeth PARSONS, WV m.[2] Ida E. SCHOOLCRAFT, WV Mary J. REED b. 1847 William REED b. 1850 George M. REED b. 1857 m.[3] Isabella PRITT, WV, divorced Elizabeth Daisy REED b. Aug 1883 m.[4] Gilla F. SCHOOLCRAFT, WV 17 Apr 1885 Allen Stewart REED Jr b. Aug 1990 m.[5] Julia L. O'DELL m.[6] Enid SCOTCH In 1884, Allen gave his daughter Elizabeth Daisy REED (my great-grandmother) to William & Charlotte Cottrell for adoption. In 1896, Allen moved to Washington State where he reportedly remarried and became rich in the timber business. This information is from a handwritten history by Elizabeth written about 3 years before her death.

SMITH, STANDIFER, NEELY
Suella Postles Sat Dec 27, 1997
Thomas Morgan SMITH 1851-1927 farmed in the Addy area between 1898-1903 and perhaps later. His wife was Amy Jane SMITH and his children Roland T., Sadie E. (married a STANDIFER in 1901) and Phillipa J. (died in 1903). I'd like to make contact with anyone related to this family. My link is through his daughter Florence Grace who married in 1889 Harry J. NEELY when the SMITHs were living in Mondovi, Lincoln Co., WA

STORM, BANSHAM, CLINE, GOTT
Vicki Hutchison Mon Sep 1 09:37:34 1997
Jasper Newton STORM married Eliza Jane BANSHAM in 1868. They came to Loon Lake, Stevens County in 1888. He died in 1897. Where is he buried? What became of his children: Tolbert, George, Belle (married Oliver CLINE), Grace (married Willis GOTT), Jesse, Cleveland, Jasper.

TOULOU, PROVO, RICE, WILLEY, DAVIES, PERKINS
Rick W. Mandigo Tue Jun 24 17:16:57 1997
Emil TOULOU jockey from Paris France settled in Frenchtown Montana territory married Sophie PROVO their children born in Stevens Co WA were Gus B-1863 D-1923, Louis B-1865 Married Eva RICE, Julius Married Kitty WILLEY, Ralpael B-1871 Married Etta DAVIES, George ,Caroline, Albert B- 1873 D-1950 Married Helen Nellie PERKINS. Looking for descendents on this family. I have ancestry on Sophie PROVO'S line to exchange.

VERT
Robert E. Vert Thu Jan 2 21:02:01 1997
Looking for info. on Henery VERT who is buried addy cemetery died of logging accident in 1905 D.O.B 5 june 1869 place of birth unknown. any information would be helpful. Reguards Bob Vert

WEST, KELLOGG, SHIELDS
Pam Hatler Sun May 25 15:00:45 1997
Martha (Mattie) Ann WEST (maiden name KELLOGG) died in Springdale, Stevens Co. abt.1919. Her daughter Dolly Ellen WEST marr. a man named SHIELDS abt. 1918 or 1919 in Gifford, Stevens Co. Her mother and father (Thomas WEST) may have been divorced by this time. ANY help with these people will be greatly appreciated! Thank you.

WILCOX
Joan Ackerman Tue Dec 16 1997
I am searching for any info and/or descendents of Wm. H. WILCOX who was listed on the 1900 Federal census in Northport, Stevens Co., WA; E.D. 74, sheet 12, line 59. He had a wife, M., born in Iowa. Where in Iowa was she born? What was her maiden name?

WOOLEY, WILSON, RIECKER, BENNER, DEARINGER, NAFF
Pat Swift Mon Sep 29 22:03:15 1997
Looking for WOOLEY, WILSON, RIECKER, & BENNER families. These families lived near Addy in 1905. Will be glad to share information. Also related to DEARINGER & NAFF families. Hope you can be of some help.
---
Return to Stevens County Home page
Maintained by Susan Dechant Stevens County Coordinator.