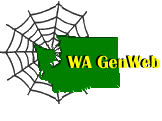 Stevens County Resources
---
Genealogical Resources for Stevens County
Washington State Genealogical Resource Guide
Kathleen Allen O'Connor, of Gonzaga University, has undertaken a project to produce a Washington State Genealogical Resource Guide. WSGS gave her a grant to help defray the costs of her project. She has gathered information from libraries, archives, societies, etc., for all counties within the state. Click on "Stevens" for a list of resources that pertain to this area.
Northeast Washington Genealogical Society
Mailing Address:
c/o Colville Public Library
195 South Oak
Colville, WA 99114
Information:
The Northeast Washington Genealogical Society was formed in 1981 to stimulate and encourage interest in genealogical research. They meet the second Wednesday of every month except December: the Computer Interest group meets at 10:30 a.m. in the basement of the Colville Public Library and the general meeting takes place at 1:30 p.m. at the Family History Center, both in Colville, WA. The general meeting consists of a business meeting followed by an instructional lecture on some topic pertaining to researching family history. Meetings are open to the public and everyone is welcome to attend. The Society publishes a quarterly called "Pioneer Branches", which is sent to all members. They maintain a genealogical collection in the Colville Public Library consisting of over 800 books, periodicals, microfilm and CDs with a special interest in the Northeast Washington counties of Stevens, Ferry, and Pend Oreille. Policy has recently changed whereby some books in their collection may be checked out. Most of their material is included in the Stevens County Rural Library District online catalog.
Membership Fees:
Individual= $15.00 per year.
Couple= $18.00 per year.
Street Address:
Colville Public Library
195 South Oak
Colville, WA 99114
Phone (library):
(509) 684-6620
Hours (for library):
Mon, Tues and Wed: 10:00 a.m. - 8:00 p.m.
Thursday and Friday: 10:00 a.m. - 6:00 p.m.
Saturday: 10:00 a.m. - 5:00 p.m.
Sunday: noon - 4:00 p.m.(October thru mid-April)
Books Available:
NeWGS has published several volumes of local records and has many local histories available for sale (go to the NeWGS website for more information)
Search Info and Fees:
The NeWGS research staff is eager to help with your Stevens County research. There is no charge for this service, however they always appreciate a donation for their research time and reimbursement for any expenses in obtaining copies and mailing them to you. Records that can be searched include courthouse records, local newspapers, county histories, funeral home records, county directories and people & photo files. Send requests and donations to the society address above, ATT: Research Staff.
Email Contacts for more information:
NeWGS Research Staff (Colville) research@newgs.org
---
The Church of Jesus Christ of Latter-day Saints
Family History Center
Address (not a mailing address):
260 E. Juniper
Colville, WA 99114
Phone:
(509) 685-0207
Office Hours:
Tuesday 10:00 AM to 6:00 PM, Wednesday 11 AM to 3 PM, Thursday 10 AM - 6 PM
Description:
The Colville Family History Center is a branch of the Family History Library in Salt Lake City, Utah which has the world's largest collection of genealogical information. Many of these records are on microfilm and microfiche and can be loaned to family history centers. Automated resources include records compiled in Ancestral File, International Genealogical Index (IGI), Social Security Death Index, Military Death Index (Korea and Vietnam), Scottish Church Records and the Family History Library Catalog. Also on permanent loan to this Center are the microfilms pertaining to the "Pacific Northwest Tribes Mission Collection", including St. Ignatius, St. Paul's, and St. Francis Regis Missions of Washington.
---
Stevens County Courthouse
Records Available:
Early Marriage Records
Birth and Death Records- 1891-1907
New Hours:
9:00 a.m. - 3:30 p.m.
Address:
Stevens County Auditor
215 South Oak Street
Colville, WA 99114
Attention: Recording (Be sure to include this)
Phone:
(509) 684-7512
Search Fees:
$8.00 per hour
Please include approximate dates of death, birth or marriage, and all names including maiden names if known.
Copy Fees:
Certified: $3.00 for the first page and $1.00 for every page thereafter
Non Certified: $1.00 per page

---
Kettle Falls Public Library
Address:
605 Meyers St.
Kettle Falls, WA 99141
Phone: 509-738-6817


Hours:
Mon & Thur 10 a.m. to 8 p.m.
Tues & Wed 10 a.m. to 6 p.m.
Friday 10 a.m. to 6 p.m.
Saturday 10 a.m. to 5 p.m.
Collection
The Kettle Falls Public Library has many items that would be of interest to Stevens County researchers. The library has an extensive collection of historical photos of the Kettle Falls area dating from about 1899 to 1941. These include a number of class photos from the "old" Kettle Falls school. Copies of photos for which they have negatives are available. If there is no negative, the requester will be charged the cost of the negative in addition to the prints. The library keeps the negative. Other historical records include newspaper clippings, family history books, the NeWGS cemetery books, and cemetery records of the Meyers Falls Cemetery (updated yearly).
The library holds the following newspapers on microfilm and has a microfilm reader-printer (copies ten cents each.):
Bossburg Herald 1910 , 1 reel
Bossburg Journal 1897-1901, 1 reel
Chewelah Independent 1916-1950, 8 reels
Colville Examiner Oct 31,1907-1937 , 1 reel
Colville Examiner Jan 1938-Apr 1948 , 6 reels
Kettle River Journal, Orient, Wa. May 2,1902-1913 , 3 reels
Kettle Falls News Apr 18-Dec 12,1941, 1 reel
Kettle Falls Scimitar Nov 24,1909-Nov 14,1912, 3 reels
Kettle Falls Sun 1935-1938, 1 reel
Kettle Falls Valley Tribune Oct 24,1907-Nov 4,1909, 3 reel
Marcus Columbia Courier 1925, 1 reel
Marcus Community News Jan 1922-Apr 26,1923, 1 reel
Marcus Messenger 1910-1919 , 5 reels
Meyers Falls Columbia Gateway 1908, 1 reel
Northport News 1907-1941, 22 reels
Spokesman-Review Jun 10,1884-Jan 25,1889, 6 reels
Statesman-Examiner 1992-1995, 5 reels
Statesman-Index Nov 23,1906-Jun 21,1923, 1 reels
Statesman-Index Apr 1927-Apr 1948, 9 reels (no1943 issues)
Stevens County Reveille Aug 22,1907-May 6,1909, 2 reels
People traveling through who would like to visit at other times may make arrangements with Librarian Joan Nullet at the library or 738-6861. At this time they have no set fees for research, but are willing to help out if they can.

---
Chewelah Museum / Historical Society

now with their own website
Address (not a mailing address):
N. 501 Third Street East
Chewelah, WA
Mailing Address:
P.O. Box 271
Chewelah, WA 99109
Phone:
(509) 935-6091
Open approx. May 1 - Sep 30:
Everyday from noon to 5 p.m.
Membership:
$5.00 per year for an individual, $10 per family
Research:
Research is free but donations gratefully accepted; collection includes the Chewelah Independent from 1921-1926 (with surname index in progress), collection of over 3,000 historical photos (which can be copied for a small fee), old store ledgers, and some family files.
E-mail Contact:
Chewelah Museum for further information

---
Hunters Museum
Address (not a mailing address):
5019 Highway 25 South
Hunters, WA
Mailing Address:
P.O. Box 11
Hunters, WA 99137-0011
Phone:
(509) 722-4440
Hours May 1 - Sep 30:
Wed - Sat 10:00 AM to 5:00 PM, Sunday 12:30 PM to 5 PM
Description:
The museum has many photographs of the local area and a small records file which can be accessed and copies made. They also have postcards and local books for sale.
---
Loon Lake Historical Society
Address (not mailing address):
4000 Colville Road
Loon Lake, WA
Mailing Address:
P.O. Box 26
Loon Lake, WA 99148-0026
Phone:
(509) 233-2222
Hours:
Tues 6 - 8 PM, Saturday 11 - 1 PM or by appointment
Description:
The purpose of the society is to collect, preserve and maintain the heritage of the Loon Lake area, through research and the collection of memories. Check out their Digital Image Project which features a series of slide programs on the history of the Loon Lake area. Contact Lorinda Travis for more information.
---
Stevens County Historical Society
Keller Heritage Center and Park
Street Address:
700 N. Wynne Street
Colville, WA 99114
Mailing Address:
PO Box 25
Colville, WA 99114-0025
Office Hours (by season):
Summer (June thru August)
Mon-Thurs - 10:00 AM to 4:00 PM
Fri-Sun - 1:00 PM to 4:00 PM
Spring and Fall (May and September)
Daily- 1:00 PM to 4:00 PM
Winter (October thru April)
By appointment
Research Library:
Wed 10 AM - 1 PM; Thurs 1 PM - 4 PM
Phone:
Office: (509) 684-5968
---
Where to get Vital Records, Census Records Etc.
Washington Vital Records Information
---
Return to Stevens County Home page
Maintained by Susan Dechant Stevens County Coordinator.