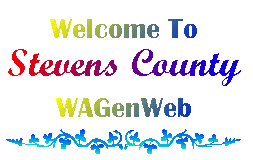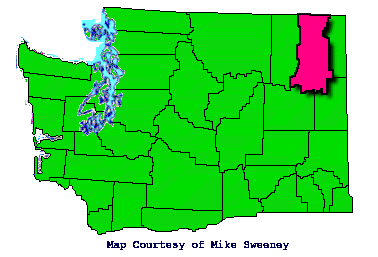 ---
Many thanks to Candy Grubb who started the Stevens County GenWeb page back in 1997. She did a great job of getting this set up and running! As of August 1999, I have assumed the responsibility for this site. If you have any suggestions for improving these pages, things you would like to see here that aren't, or find any bad links, please e-mail me. Susan Dechant. I also encourage you to submit items to me that would be of interest to other Stevens County researchers. My eternal appreciation goes out to those of you who have already sent items in a format that was easy for me to post to the web site! The less time I have to spend in figuring out how to post something, the quicker it will get up there!! And, please, for any communication with me, include "Stevens Co" in the subject line.
---
The new Eastern Washington State Archives building in Cheney is open for business! Read the Secretary of State's press release and find a map with location information. The archives is open 8 - 4:30 Monday through Friday and no appointment is needed. Check out their online catalog of holdings before you go.
---
WAGenWeb Search


Search WAGenWeb, including County sites

The WaGenWeb now has a Google search engine on the WAGenWeb state page that covers all Washington county sites. Try it out!
---
These catagories do not fit into the existing grid at the bottom of the page, so please be sure to check this whole page for links.
CENSUS RECORDS

1860 WA Territorial Census incl Colville Valley

Territorial Censuses 1871, 1878, 1885, 1887, 1892 at the Washington State Archives (soon to include images)

1880 list for Stevens County as it was then

1880 statistical study for Stevens County

1910 WA Census Index (Stevens County, including Pend Oreille County, census images now on-line too!)

LAND RECORDS

BLM Master Title Plats, Historical Indices, and Survey Plats for Oregon & Washington

MILITARY RECORDS

World War II Casualties Listed by state, then county

Casualty Lists from Korean War & Vietnam Conflict Can search by name or state and county

Vietnam War Casualties from Stevens County

MINING

Historic Mine Locations Washington State Department of Natural Resources, Division of Geology and Earth Sciences

Online Publications of the DNR having to do with geology and mining

Bristow Enterprises has created an interactive program for under $20 showing locations and information about mines in Stevens County

Chewelah Copper King Mining Company 1900-1908

NATIVE AMERICAN RESEARCH

Spokane Indian Reservation 1910 (southern Stevens Co)

American Indians of the Pacific Northwest

NATURALIZATION RECORDS

Washington Archives Searchable Database

SCHOOL RECORDS

Hunters School - parents, students & school minutes 1903 - 1917

MISCELLANEOUS RECORDS AND LINKS

Local Histories List of books to purchase or look for

Newspapers List of newspapers published in Stevens, Ferry and Pend Oreille counties

Washington State Livestock Brand Book 1952 (Stevens Co.)

Washington State Livestock Brand Book 1972 (Stevens Co.)

E-Mail to State Coordinator, Mike Sweeney

---

Maintained by Susan Dechant Stevens County Coordinator.