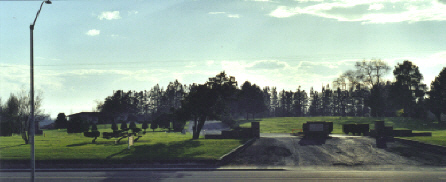 Blue Mountain Memorial Gardens Obituaries Page 1
SE Myra Rd, College Place, Washington
____________________
Page 1

Donald (Donn) Eugene Adams of Liberty Lake, WA passed away on August 14, 2007 in Bend, OR.
Born May 1, 1937 in St Anne, IL to Gilbert and Opal Adams. Director of Continuing Education at Walla Walla Community College, Vice President for Instruction Wenatchee Valley College, Vice President for Instruction at Green River College. Survived by six sons, Barry and Brad Adams of Seattle, WA, Keith Stevenson of Austin, TX, Kip Stevenson of Beaverton, OR, Kraig Stevenson of Bellevue, WA, and Kern Stevenson, Manhattan, MT; four grandchildren; and brothers Terry Adams of Kankakee, IL and Robert Adams of St. Anne, IL. Preceded in death by wife, Sharon in 2001. Memorial service will be held in Walla Walla, WA, Saturday, August 25th,Bob Vahey officiating. Burial will follow at Blue Mountain Memorial Gardens. (Spokesman Review, Aug 21, 2007)
Betty Jean Trout Anthony, 64, Walla Walla, died at home May 1, 2004. Born Jan. 31, 1940, in Dayton to Arthur Sr. and Melba Waldo Trout. Attended schools in Dayton and Walla Walla. Met "Huck" Anthony 1973 and married July 10, 1989, in Arkansas. Stepmother to several children. Prior to retirement in 1991, she was a housekeeper at Park Manor Rehabilitation Center. Huck died in 1999. She was diagnosed with Amyotrophic Lateral Sclerosis/Lou Gehrig's Disease in 2002. Survivors include three daughters, Betty, Carmen and Lupe Hernandez, two sons, Joe and Cory Hernandez, and her mother, Melba Marlette, all of Walla Walla; three sisters, Dixie Black Northport, WA; Kathy Mullings, La Pine, OR; and Rita Romero, Walla Walla; four brothers, Ed, Claude and Donald Trout, all of Walla Walla, and Stewart Trout, Milton-Freewater; six grandchildren and one great-grandchild. Preceded in death by a son, a brother and adopted mother Lupe Callsias. Burial in the Garden of Peace section of Blue Mountain Memorial Gardens. (WWUB, May 05, 2004)
Raymond Niel Arbogast, 73, Clarkston, went to be with the Lord Monday, June 21, 2010, at St Joseph Regional Medical Center in Lewiston. Born Feb. 16, 1937, in San Jose, Calif., to Lila and Asa Arbogast. Married Lorraine Gustafson April 8, 2005, in Walla Walla. Survived by his wife, Lorraine Arbogast; his daughters, Brenda Arbogast, California, and RaeLynn Sutton and husband Walter, Walla Walla; one stepson, Rick Anderson and wife Billie, Price, Utah; four stepdaughters, Debra Biggers, Clarkston, Brenda Arnett, Clarkston, Brandi Brown and husband Cody, Lewiston and Connie Anderson, Lewiston; four grandchildren; two great-grandchildren; 11 step-grandchildren; three step-great-grandchildren; and three unborn great-grandchildren. Funeral service is Monday at Mountain View-Colonial DeWitt Funeral Home in Walla Walla. (Friday, June 25, 2010 Lewiston Tribune, ID (edit note: probably Blue Mountain Memorial Gardens beside his wife.)
Mary Lynn Baird, age 73, passed away peacefully October 8, 2010 at her home in Redmond, after a valiant five year battle with pancreatic cancer. Born in Walla Walla to Virgil and Lucyreta Davin on December 24, 1936. Graduated Walla Walla High School 1954. Attended University of Washington. 1957 married Larry Keefe of Yakima. Two sons, Jeff and Tom were born. Mary Lynn worked in the travel industry. In 1982, met Carter Baird of Washington D.C. they married in Honolulu. Survivors include husband, Carter; sons Jeff (Kat) Keefe of Bellevue, Tom Keefe of Yakima; grandsons Alex Keefe, A.J. Keefe, and Jake Keefe; brother Dennis (Verna) of Kennewick. Stepsons Michael Baird of St. Simmons Island, GA; Mark Baird of Jupiter, FL; Brett Baird of Acworth, GA; and Dr. J. Kevin Baird of Jakarta, Indonesia. Predeceased by her parents, Virgil and Lucyreta Davin of Walla Walla and her former husband, Larry Keefe of Yakima. A private graveside service will be held at Blue Mountain Gardens in Walla Walla. A celebration of Mary Lynn's life will be held at St. Margaret's Episcopal Church, on Saturday, November 6. (Seattle Times excerpt, Oct 17, 2010)
Vancouver area resident, Verbena L. Burton, 100, died January 31, 2006, while visiting her nephew in Pasco, Washington. Inurnment was at Blue Mountain Memorial Gardens, Walla Walla, Washington, next to her deceased sister. Miss Burton was born March 1, 1905, in Moose Jaw, Saskatchewan, Canada to Charlie and Deborah Louise Olmstead Burton. She had lived in the Vancouver area most of her life, working in retail sales at Woodward's. She is survived by her nephew and his wife, Burton and Gail Proctor of Pasco, Washington. (Vancouver Sun on Feb 10, 2006)

Longtime Walla Walla resident, Dorothy Rose Clemetson, 82, died February 19, 2011, at her home. Born March 16, 1928, in Kellogg, Idaho, to James and Delphia May (Prettyman) Meadows. In 1946, graduated from high school in Chewelah, Washington, attended St. Luke's School of Nursing, Gonzaga University, Spokane and Walla Walla Community College. December 28, 1961, she and Les Clemetson married in Coeur d'Alene, Idaho. She worked at St. Luke's Hospital, Spokane, Fairchild Air Force Base Hospital, and Odd Fellows Home in Walla Walla until ill health forced her retirement in 1982. Survived by her husband at home; three stepsons: Lester Wagner of Spokane, Washington, Alfred Wagner of Billings, Montana and Lawrence Wagner of Lake Stevens, Washington; five step-grandchildren and numerous nieces and nephews. Preceded in death by three sisters and three brothers. F Mark Cole of the Church of Christ will officiate. Burial will follow in Blue Mountain Memorial Gardens, Myra Road, College Place, Washington. (Thursday, Feb 24, 20ll, Mountain View-Colonial DeWitt)
Amos Miller Fine, ,87,long-time Walla Walla, Wash., resident and former Shaniko resident died in his home May 9, 2008. Born on May 24, 1920, to George and Arlene Fine on his father's homestead about 11 miles west of Shaniko. Graduated high school 1939 in The Dalles. March 23, 1946, married Bonnie Mary Butler. They had six children. Worked with Pacific Power on Dec. 10, 1936, repairing meters, promoted to assistant line superintendent 1962 and moved to Albany, 1965 district line superintendent position in Walla Walla, retired there May 1983. High school president of The Dalles Chapter of Future Craftsmen of America. Member of the Fraternal Order of Eagles, Elks, Chamber of Commerce, Kiwanis Club and Toastmaster, educator for the Volunteer Fire Department in Madras, Washington Old-Time Fiddlers Association and Walla Walla Rose Society. On retirement, he continued playing music in retirement homes, at the Fort Walla Walla Museum, Bruce House Museum, Southeast Washington Fair, and Walla Walla Senior Citizens' Center. Survived by his wife of 62 years, Bonnie Fine; his six children and their spouses: Steven and Marilyn Fine, Bend, Candy and Jim Jones, Vancouver, Wash., Gini and Jim Walker, Wood Village, OR, Ann and Todd Patterson, Tacoma, Wash., Cherie and Tom McNabb, Vancouver, Wash., and John and Sue Fine, Battleground, Wash.; his eight grandchildren, Cameron Fine and Keli Thompson, Sarah and Matthew Jones, Andrew and Emily Lindgren, Adrienne McNabb, and Nick Fine; his sister Georgene Webber; and numerous nieces and nephews. Preceded in death by his brother Arthur Fine. Mass celebrated May 15, at Assumption Catholic Church in Walla Walla with a reception following. Interment service at the Blue Mountain Memorial Gardens. (Madras Pioneer, Madras, OR, May 21, 2008)
Gail Gettings, 72, longtime Moses Lake resident, passed away Friday, Oct. 5, 2007, at Swedish Hospital in Seattle after a brief and courageous battle with cancer. Born to Leslie C. Gettings and Verona Mae Bales on June 25, 1935, in Walla Walla, Wash. Gail, who met Elizabeth (Betty) Grueniech in a high school psychology class, were married Feb. 13, 1955. Started his career in the grocery store as a baker in Walla Walla, Moses Lake in 1963 for Jack's Bargain Barn, Excell Foods as Manager of the bakery, deli, produce and the assistant manager of groceries, part time for Jet Air and Quincy Valley Fitness. Survived by his wife Betty of 52 years and four children; Joseph Gettings and Annette Wilson of Mercer Island, Barbara Gettings and Fred Hooker of Salinas, Calif., James and April Gettings and Lori and Kirby Messer of Moses Lake; Eight grandchildren and one great-granddaughter and a great-grandson due to be born January 2008. Funeral services will be held Tuesday, Oct. 9, 2007, at The Church of Jesus Christ of Latter-day Saints, with Bishop Keith Coulson conducting. Internment will follow at the Blue Mountain Memorial Gardens in Walla Walla. (Oct 08, 2007 Columbia Basin Herald, Moses Lake, WA)

Marie Agnes (Pennell) Hart, age 89, longtime Moses Lake resident passed away Tuesday, March 8, 2011 at Samaritan Hospital. Born January 4, 1922 to Claude and Anna (Duffy) Pennell in Hay, WA. Graduated Prescott High School, Prescott, WA in 1939 and Kinman Business University, Spokane, WA in 1941. Married Cecil W. Hart February 17, 1951 in Dayton, WA. Farmed in the Clyde area, north of Walla Walla, they were blessed with twins, Dan and Ann. Moved to Moses Lake in 1959 to a farm in the Block 42 area. Preceded in death by her husband (1969), her parents, a brother Robert Pennell and sister Hazel Jacobson. Survived by her siblings, Pauline (John) Hennings of Ritzville and Lee (Carole) Pennell of Walla Walla; a brother-in-law, Richard Jacobson of Walla Walla; son, Daniel (Gretel) Hart of Moses Lake; daughter, Annita (Gary) Sooy of Cheney; grandchildren, Cecilia Sooy, Amanda (Matt) Webb, Carl, Dale and Paul Hart; great-grandchildren, Vanessa and Zane Webb. Per her request, private family interment will be held at Blue Mountain Memorial Gardens in Walla Walla. (Funeral home ledger, 2011)
Lydia Weitz Heinrich, 82, of 2219 E. Isaacs Ave., died Saturday at Whitman Manor Nursing Home Born in Colfax on Dec. 24, 1896, to George and Mary Marie Scheuermann Weitz. Attended schools in Colfax and Portland, OR., Married Phillip Heinrich 1914 in Portland. Worked for Meier and Frank Department Store, moved to Colfax , then Endicott, where they had a grocery and restaurant business, moved to Auburn where they ran a poultry business and 1966 came to Walla Walla. Survived by her husband, Phillip, at home; two daughters, Alice Bishaw, Milton-Freewater, and female; a stepson, male, a sister, Gladys Hodson of San Antonio, Tex.; and two grandchildren. Internment in the Blue Mountain Memorial Gardens, with the Rev. Wesley Fleming officiating. (WWUB, February 12,1979)
LeRoy C. Isley passed away Oct. 3, 1999, in Walla Walla, Wash. Born Nov. 20, 1916 in Joseph, the son of LeRoy G. and Ethel V. (Scott) Isley. He lived in Joseph until 1947. Preceded in death by a sister, Lela Colpitts; two brothers, Willis Isley, and Wilber Isley. Survived by wife Peggie Ann of Walla Walla; daughter Darlene Griffin of Pasco, Wash.; four sons, Wayne of Post Falls, Idaho, Ivan of Spokane, Wash., Rockey Joe of Lacey, Wash., and Russell of Walla Walla, Wash. Services are in Walla Walla, Wash. On Thursday, Oct. 7, at 11:00 a.m. (The Oregonian, 1999)
(Blue Mountain Memorial Gardens, HS)
J. Glen Johnson, Died at Sacred Heart Hospital, Spokane on Apr 06, 1989. J. Glen Johnson, 67 of Walla Walla. Born September 28, 1921 in Troy, AL. Member of Blue Mountain Lodge No. 13F & A.M., El Katif Shrine Temple of Spokane; Past President of Blue Mountain Shrine Club, Blue Mountain Shrine Club Cycle Patrol and Walla Walla Yacht Club, B. P.O. Elks No 287 and Walla Walla Country Club. Survived by two sons John G. Johnson of Twin Falls, ID and Gary D. Johnson, Walla Walla; companion Connie Jamison and her daughter, Stacy; two sisters Edith Johnson and Mrs. Robert (Margaret) both Troy, AL; three grandchildren, Jason and Aaron Johnson and Mrs. Brook (Chellie) Mitchell of College Place, Wash. Preceded in death by his wife, LaVerna Johnson on November 1, 1973. ( WWUB, Apr 10, 1989)(Blue Mountain Memorial Gardens, HS)
Raymond A. Kilburg, 64, a Walla Walla resident for 54 years died Saturday. Born Jun 19, 1903 in Mt. Angel, OR, the son of Peter and Caroline Kilburg. Graduate of Wa-Hi was employed as a shipping clerk for Continental Can Co for 25 years. Survivors are his wife, Lois; daughter, Mrs. Clifford ( Patricia) Graham, Walla Walla; sister, Mrs. Jacob ( Emma) Miller, Portland; stepchildren, Mrs. Leonard ( Shirlee) Gaston, Pendleton and Alva Ray Blaylock, Jr. LaGrande, one grandchild and four step-grandchildren. Vault interment in Blue Mt. Memorial Gardens. (WWUB, Sun, July 9, 1967)
Services for Louie B. Murray were held Saturday with the Rev. Jasper C. Havens officiating. Pallbearers were Ed Johnson, Richard Brock, John Lawrence and James Murray, with vault interment in Blue Mountain Memorial Gardens. (WWUB, Sun, July 9, 1967)
Clifford Anthony Paffile, 67, of Walla Walla , died suddenly at his home on Friday, Oct 23, 2009. Born March 21, 1942 in Lewiston to Tony and Arbutus Paffile. Survived by his wife, Lila; sons Mark and Clint Paffile; daughters, Terri Paffile, Lori Short and Tonya Lyons; stepson George Swift; stepdaughter Tiffany Swift; 11 grandchildren and one great-grandson. Preceded in death by his father, mother, sister and grandson. A memorial service will be Saturday at the Trinity Baptist Church with interment to follow at Blue Mountain Memorial Gardens, Walla Walla ( Source unknown)

Leland L. Potter, 82, died Sept. 15, 2009, at his home. Born Feb. 9, 1927, in Indian Creek, Neb., to Glenn and Dorothy Fern Stowe Potter. After high school, enlisted in the U.S. Navy, during World War II on the USS Leedstown and the USS Holland. Following his honorable discharge in August 1946, met Bonnie Morris, married Feb. 22, 1947, in Walla Walla. Worked as a surveyor on Priest Rapids, Lower Monumental, Lower Granite, Wanapum and Little Goose dams and for Hanford Nuclear Power Plant and Polysilicon Plant, retiring in 1986. Member of International Union of Operating Engineers Local No. 370 and Veterans of Foreign Wars. Survived by his wife, at the home; a son, Tim Potter of Milton-Freewater; three daughters, Marilyn Potter of Tollgate, Ore., Sheila Peick of Walla Walla and Karen Martin of Spokane; four brothers, brothers, Paul Potter of Marysville, Calif., Leroy Potter of Kettle Falls, Wash., Don Potter and Rolland "Buck" Potter, both of Milton-Freewater; three sisters, Maxine Billings of Milton-Freewater, Alma Jane Gillock of Gresham, Ore., and Donna Speer of Walla Walla; 11 grandchildren; and eight great-grandchildren. Preceded in death by a brother, Elvin Potter; and a grandson, Tyson Barker. The Rev. Duane Geyer will officiate. Burial will follow at Blue Mountain Memorial Gardens, Walla Walla. (WWUB, Sep 17, 2009)
Jayne Schirmer. On Jan. 20, 2010. Born Sept. 25, 1961, in Yakima, died from complications of congestive heart failure. Jayne spent the first seven years of life in Dayton, moved to Walla Walla, attended Green Park Elementary, Pioneer Middle School, and a cheerleader sophomore year at Walla Walla High School. Member of First Congregational Church.
In 1978 was involved in a tragic car accident and suffered a closed head injury with massive brain damage. After 12 months of rehabilitation she was able to make her way back into life.. and toward the end of her life she was a successful telemarketer. In 1995 her beloved daughter Ashley Ann was born.
S
urvived by her daughter, Ashley; her parents, Bill and Joann Schirmer; a brother, Mark of Memphis, Tenn.; two nephews and three nieces.
P
rivate inurnment will be held at Blue Mountain Memorial Gardens. Memorial services are Saturday, Jan. 30, 2010, at Pioneer United Methodist Church, Walla Walla. (WWUB Online news,

Published on Tuesday, January 26, 2010
)
Fern M. Schultz, 69, died Friday at Walla Walla General Hospital. Born Feb. 9. 1908, in Superior, Neb., to Mr. and Mrs. John Craig. She came to Walla Walla in 1941. Married Clyde A. Schultz Aug. 11, 1924, in Mankato, Kan. He preceded her in death, Dec. 9, 1963. Employed 26 years with General Foods Corp. Birdseye Division, Walla Walla, retired in 1973. Survived by a daughter, Phillis Poirier, Milton-Freewater; sons Craig, Billie D. and James A. Schultz all Walla Walla, and Robert L. Schultz ,Sacramento, Calif; sisters Lena Wilcox and Hazel Lyons, both of Superior, Neb.; 13 grandchildren and 3 Great Grandchildren. Funeral will be Tuesday at Colonial DeWitt Funeral Home, with burial at Blue Mountain Memorial Gardens Cemetery. The Rev. Howard E. Baker, First Church of God will officiate. (WWUB March 20, 1977)
An open house celebration of life will be held Dec. 22 for Lorrane Wamsley of Cottage Grove, formerly of Yoncalla, who died Dec. 17 of age-related causes. She was 97. Born Nov. 18, 1908, in Covella, Wash., to Wilson and Melinda McGee Sanford. Married Russel Wamsley in 1936 in Dayton, Wash. He died April 16, 1982. Educated near Lewiston, Idaho, moved to Oregon in 1941, living in Pacific City until 1945, then in Neskowin, moved in 1949 to Yoncalla, where owned and operated Wamsley's Red and White Store. Following her husband's death, moved to Cottage Grove. Member of the Rebekah Lodge. Survivors include a son, James of Cottage Grove; four grandchildren; and one great-grandchild. A daughter, Merrily Osborn, died July 5, 2004. Thursday's celebration will be held at the home of Jim and Kathy Wamsley, Cottage Grove. Burial will be at Blue Mountain Memorial Park in Walla Walla, Wash. Smith-Lund-Mills Funeral Chapel in Cottage Grove is in charge of arrangements. (online Source, funeral home )
Wasilla resident Gary Bernard Weber, 65, died April 22, 2005, in Walla Walla, Wash., where he was visiting family. Born June 10, 1939, to Walter and Inez Weber in Hettinger, N.D, grew up in Prescott, Wash., graduated Prescott High School in 1957., attended Seattle University from 1958 to1959. Married Elsie Smith in October 1961 and had two sons, Robert and Thomas. Served in the U.S. Army, worked for Standard Oil Co., transferred to Anchorage in 1969 and worked in marketing until 1976. In 1970, married Carolyn Smith and moved to Wasilla. In 1976, he and his brother, Lloyd, bought Wasilla Chevron. Organized the first Wasilla Community Marching Band, active in Sacred Heart Catholic Church, Rotarian and Knight of Columbus. Taught business education to Wasilla Middle School, active in scouting. Survived by his sons, Robert and Brad; sisters and brothers-in-law, Kathy and Don Martuscelli and Paulette and Willis Goodwin; brothers and spouses, Joseph Weber, David and Val Weber, Lloyd and Inez Weber, Donald and Donna Weber, and Michael Weber; three grandchildren; and many nieces and nephews. Preceded in death by his son, Thomas. Funeral Mass will be at St. Francis Catholic Church in Walla Walla. Interment will be at Blue Mountain Memorial Gardens Cemetery. (Alaska newspaper, 2005)
Benjamin Weitz, 88, Washington Odd Fellows Home died there Dec. 12, 1998. Born Jan. 29, 1910, in Endicott, Wash. to Alexander C. and Elizabeth Reich Weitz. Attended schools in Endicott. June 21, 1936 married Esther Morasch in Endicott and worked on the family farm in La-Crosse-Endicott area. Moved to Walla Walla in 1938, owned and operated the Union 76 gas station at Ninth Avenue and Main Street until 1948, worked for Young's Dairy, worked for the city of Walla Walla and retired in 1972. Mrs. Weitz died in November 1986. Member of Christ Lutheran Church and church council member. Survivors include two daughters and sons-in-law, two brothers, five grandchildren; five great-grandchildren; and several nieces and nephews. Preceded in death by an infant daughter, Audrey Jane Weitz; and a sister, Eva Weitz. 1998 Burial at Blue Mountain Memorial Gardens. (WWUB, December 1998)
Ronald Wilford Westenskow, 87, of Walla Walla and formerly of Imbler, died Oct. 24,(2009). Graveside service for family and friends will be Friday at Blue Mountain Memorial Gardens Cemetery in Walla Walla. A memorial service will follow at 11 a.m. at the chapel of Herring Funeral Home. Burial will be at the Blue Mountain Memorial Gardens Cemetery. ( LaGrande Observer, Oct 29, 2009)
===================================
Obituary excerpts for Blue Mountain Memorial Gardens,
Walla Walla Washington, submitted to the WAGenWeb,
by Rella Gleaton, March 2011.
===================================