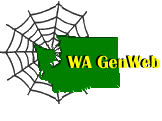 Stevens County History
---
CREATION
Stevens county was originally part of the Oregon Territory. When Washington became a territory in 1853, what is now Stevens county was part of Walla Walla county. The Territorial Legislature created Stevens county on January 20,1863. Stevens county was named for Isaac Ingalls Stevens, the first governer and delegate to Congress.
In 1864 the Territorial Legislature annexed Spokane county to Stevens county, this vast area included what is now Adams, Chelan, Douglas, Ferry, Franklin, Lincoln, Okanogan, Pend Oreille, Spokane, Stevens and Whitman counties, it encompassed over 25,000 square miles. The breakup of Stevens county began in 1871, with the creation of Whitman county, followed by the recreation of Spokane county in 1879, Okanogan county in 1888, Ferry county in 1899, and Pend Oreille county in 1911. What remained was the Stevens county we have today.
For a list of books that have been written about the Stevens County area, look at the list of Area Histories
To learn more about the old forts and the fur trade in the area, check these links: Fort Spokane, Fur Trading Posts in the Okanagan and Similkameen (including Fort Colvile), Hudson's Bay Company Archives, Library of Western Fur Trade Historical Source Documents, Eastern & Southwestern Washington Forts (quick overview of the forts).
Also check out these links for information, history and photos of old Stevens County towns, some no longer in existence:

The Preserve America Project "Crossroads on the Columbia" has an interactive map of old Stevens County with some history of our towns; click on "Maps and then "Old Towns"; and please explore the rest of the site for some wonderful material on Stevens County history.
---
Return to Stevens County Home page
Maintained by Susan Dechant Stevens County Coordinator.