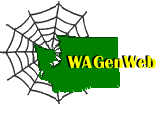 GenWeb of

Walla Walla County,Washington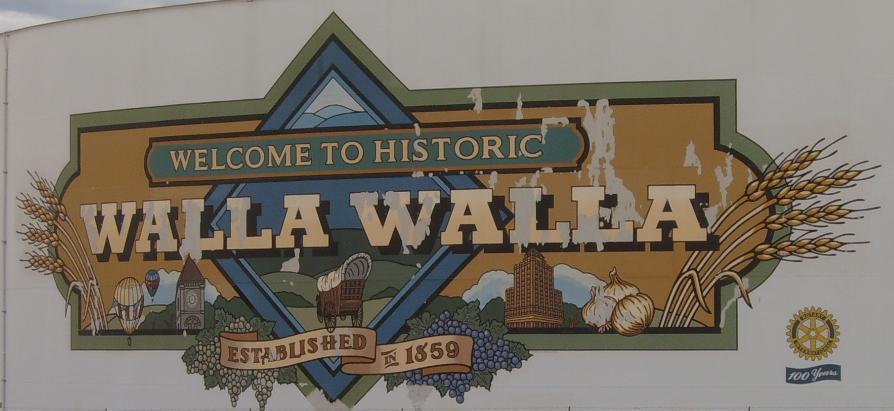 Photo of the mural on the large city water tank as you enter Walla Walla from the East.
Walla Walla... the valley they liked so much they named it twice!
Walla Walla is an Indian name which means many waters or running waters and this beautiful valley with the range of The Blue Mountains as a backdrop is full of small streams and springs. It was one of the original counties formed as part of the Washington Territory in 1853. In those days it included all the area east of the Cascade Mountains to the western portion of Montana. The Walla Walla Valley is famous for it's Walla Walla Sweet Onions, Wheat production, Hot Air Balloon Stampede, Southeastern Washington Fair and Frontier Days Rodeo, Washington State Penitentiary, and recently their many vineyards and wine production.
_____________________________________________________________________________________
These pages are always under construction. If you have something to add, please let me know! Have fun searching!
Bibles
Biographies
Cemeteries
Census
County and Town Histories
County Resources
Family Links
Fort Walla Walla
Links
Lookups
Military Records
Miscellaneous information
Naturalization Records
Obituaries
Photographs
Pioneer Stories
Surnames/Researchers & Queries
School Records
Vital Records
Weddings
Wills
__________________
Last updated April 15, 2016.
This page is maintained by Rella Gleaton
-I grew up in Walla Walla, graduated from school there. I do not live there now.
-I love cemeteries and recorded almost all of them in Walla Walla County.
-These files have been donated by researchers, such as yourself.
Please contact me if you have information to share.
-Help genealogy researchers by submitting public domain records/documents.
-Your contributions makes this project a success! Or transcribe records.

-We cannot accept anything copyrighted, without written permission from the author.
-We will accept obituaries and marriages that have been excerpted.

-I do not have the resources to do lookups or research.

-These pages are constantly growing thanks to our contributors. Check back soon.
___________________________________
Mike Sweeney, WAGenWeb State Coordinator

© Copyright Originally created by Celia Tomlin, November 11, 1996, Copyright 1996-2010, 2011-2016
This material may be used freely for personal research, but no information or pictures may be used in any format or displayed on any other website without permission from the Walla Walla County Coordinator and/or the submitter of that information.