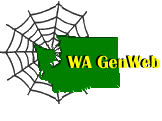 Stevens County Marriages
---
When sending for a Stevens County marriage record and the marriage took place before June 1939, be sure to ask for a copy of the "Marriage Statistics" - they include information on parents, birth and occupations for both the bride and the groom. A few years ago all our early marriage records were moved to the Eastern Washington Archives at Cheney. Eventually they will be available online through the Washington State Archives Historical Records Search. Meanwhile, contact the Archivist at Cheney to obtain a copy.
A handy tip from researcher, Dee Biegler - if you don't find your marriage in Stevens County and they lived in the southwestern part of Stevens (Deer Trail, Fruitland, Hunters, Cedonia areas), check Lincoln County!
---
1859-1947

Index
---
1859-1864
---
1886-1890
---
1891-1905 Register of Marriage Statistics
---
1901 - 1902
---
1911-1922-Index "A" (Surnames beginning with A)
---
1912-1919, Groom Surnames Starting With "B"
Listed By Groom
---
1912-1919, Groom Surnames Starting With "B"
Listed By Bride
---
Corrections or Additions to Above Marriages
---
Return to Stevens County Home page
Maintained by Susan Dechant Stevens County Coordinator.