A Brief History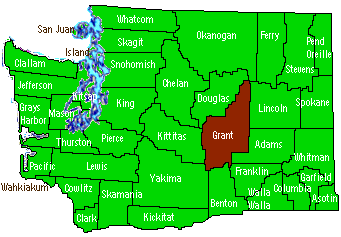 Grant county was formed from Douglas County on February 24, 1909, and named after President Ulysses S Grant. The county seat is Ephrata, and the largest city is Moses Lake.
Native American cultures in the area included the Interior Salish, Wenatchi, and the Okanagan.
White settlers began to arrive in the mid-to-late 19th century, primarily with the goal of raising livestock. Irrigation attempts began in 1898, but it would be years before real success.
Three major railway systems tracked through the county; the Great Northern, Northern Pacific and the Chicago, Milwaukee & St. Paul Railroad. The Columbia River was navigable in this area which allowed crops to be transported out of the area easily that also allowed towns like Wilson's Creek, Quincy and Ephrata to thrive.
Adjacent Counties
Communities of Grant County

Adco (Unincorporated)
Adrian (Unincorporated)
Banks Lake South (Census-designated place)
Beverly (Unincorporated)
Cascade Valley (Census-designated place)
Corfu (Ghost town)(Unincorporated)
Coulee City
Coulee Dam (partial)
Desert Aire (Census-designated place)
Electric City
Ephrata (county seat)
George
Grand Coulee
Hartline
Krupp (formally known as Marlin)
Lakeview (Census-designated place)


Mae (Unincorporated)
Mattawa
Moses Lake
Moses Lake North (Census-designated place)
Quincy
Royal City
Ruff (Unincorporated)
Schawana (Unincorporated)
Soap Lake
Stratford (Unincorporated)
Trinidad (Unincorporated)
Wheeler (Unincorporated)
Warden
Wilson Creek
Winchester (Unincorporated)


Notices
External Link Statement:
Links to web sites that are not part of the WAGenWeb or USGenWeb Projects are provided for your convenience and do not imply any endorsement of those web sites or their contents by the Grant County, WAGenWeb or USGenWeb Projects.
Onsite Data:
All of the data on our site has been transcribed and submitted by volunteers from any number of record sources, we can not guarantee accuracy or completeness of this information, you are urged to consult original primary material for verification. The information submitted to us remains, to the extent the law allows, the property of the submitter who, by submitting it, agrees that it may be freely copied but never sold or used in a commercial venture without the knowledge and written permission of its rightful owner. Submitters are expected to follow USGENWEB copyright policy.